Gearhead 6.0 Custom Tuning
SKU:

SCT-6.0GH-TUNING

UPC:

Availability:

Usually Delivers in 24 Hours
Description
6 Liter Tune Descriptions for Stock Nozzle Injectors:
Street Race Lite (SRL)
Awesome daily driver file (no towing) with butt kicking response, low smoke, and outrageous power. The best shifting all-around street file on the market period! Typical gains of 1-3 MPG have also been reported with this file.
Studded SRL (SRL+)
The one up to SRL for studded trucks. Simply adds boost over SRL for 10-15 more HP and 50-60 more FT/LBS of torque.
8000 Lb Tow (8K Tow)
This tow file is rated for 8000 pounds of towing without being studded. Studded trucks can tow 13000 pounds with this file.
Unlimited Tow
Since this file maintains stock fuel parameters, it can tow whatever you want while giving better shift firmness than stock.
Extreme SRL
SRL+ have you craving more? This is the file for you!
6 Liter Tune Descriptions for Larger than Stock Nozzle Injectors:
XX Tow
This tow file is set up for any after market injectors while trying to keep the EGT's (Exhaust Gas Temps) down.
XX Reduced Fuel
With this file it add more boost and fuel for a more powerful street tune while maintaining drivability.
XX Full Fuel
This file will be similar to the XX Reduced Fuel until you put your foot to the floor. Then you need to be ready for what we call "FULL FUEL". Go fast and eat cornbread!
Here's an example of what Gearhead can do for your truck. Here are runs on a stock-injector 6 liter with just an exhaust. This depicts Stock versus our "8K Tow" and "Street Race Lite" files.
6.0 Powerstroke Dyno results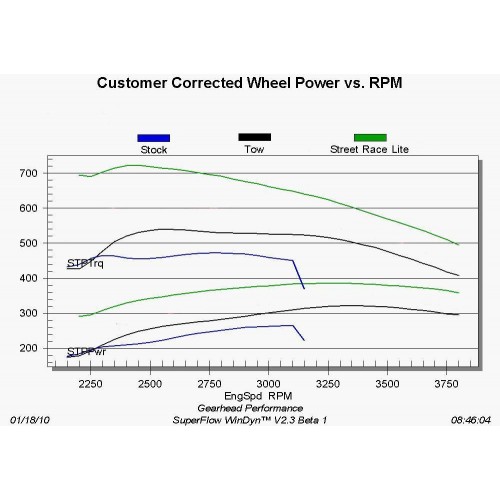 View All
Close